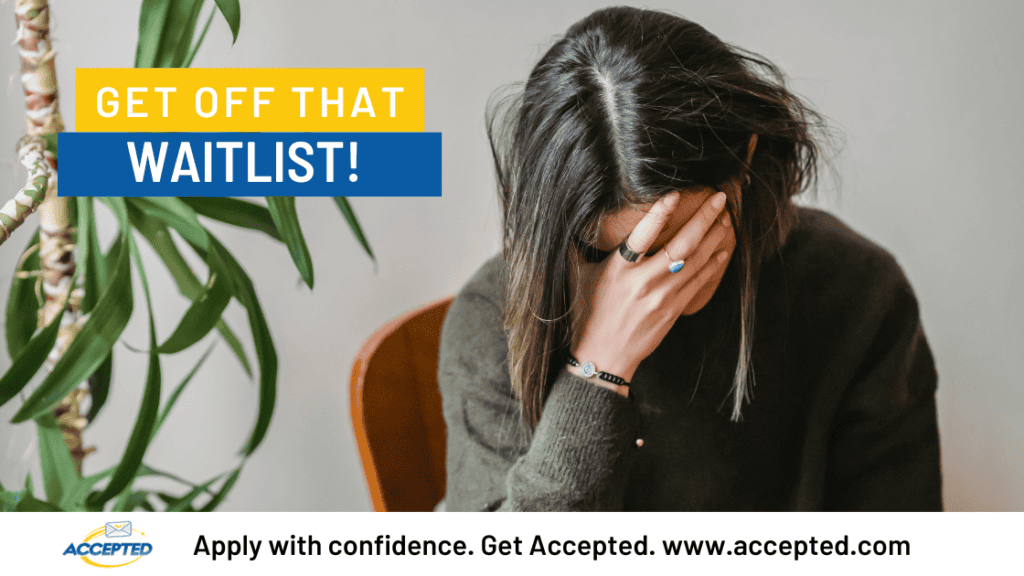 Landing on a school's waitlist can be disappointing and nerve-wracking. And sometimes, waitlisted applicants let their anxiety or disappointment cloud their thinking, which makes it harder to do the work needed to get off that waitlist and earn an acceptance.
If you are waitlisted, know this: "waitlisted" does not mean "rejected!" If you play your cards right, you still have a fighting chance of getting into your dream school.
In this post, we show you how to make the most of this opportunity.
Let's start by warning you to avoid some of the common, but ill-considered behavior that really turns adcom members off to your application.
Reacting emotionally
The most flagrant violators react emotionally to the news of being waitlisted and, perhaps without realizing it, behave in ways that are demanding, rude, disrespectful, or otherwise inappropriate. This behavior can show up through their emails, calls, or even unscheduled drop-in visits to the adcom's offices. These types of responses reveal immaturity and a lack of judgment. Adcoms will duly note them, and this can sink your chances of "getting to yes."
Not following instructions
If the adcom has waitlisted you, it means you're still a contender. Don't blow your chances by failing to pay attention to the school's exact instructions on handling your new status. Read the instructions and follow them precisely. Send what they ask for, and don't send what they don't want.
For example, if the school states explicitly that it doesn't want to hear from you, leave them alone. Contacting them will only hurt your case.
For programs that are open to further communication, you can tilt the odds in your favor by writing a well-crafted waitlist update letter or letter of continued interest. You could also have a few letters of support written by others sent to the adcom on your behalf. These letters should focus on three areas: your enhanced qualifications, the steps you've taken to overcome any shortcomings, and the ways in which you are a perfect fit for the school.
Five Rules for Writing a Winning Waitlist Letter

Keep it short – no more than two pages, double-spaced.

Use this valuable space to focus on how you are a stronger candidate now than when you first applied. During the brainstorming stage of the letter – and then again once you're done writing – double-check that you haven't repeated material already in your application. You don't want to waste anyone's time!


Thank the school for continuing to consider your application.

Restate your commitment to the program and your belief that its philosophy and approach make an ideal fit for your educational preferences and goals.


Update your qualifications.

What is new and improved since you submitted your application? Ideally, you will be able to relate these new achievements to some of the themes or experiences you addressed in your essays.

Have you earned a promotion? Scored A grades in relevant courses? Taken on a new leadership role in a project or assumed additional work responsibilities? Volunteered or taken on other initiatives in your department, business, club, or community? Be specific when describing these roles.


Explain how you have strengthened areas of weakness or mitigated other shortcomings.

Show the adcom how you have upped your game in areas where you might have originally come up short. Instead of dwelling on an actual shortcoming, focus on the specific actions you've taken to gain competence in that area, personally or professionally. For example, if you had weak communication skills, discuss how you joined Toastmasters and how as a result you are a more confident, fluid speaker.

Also, if you have plans to take additional classes for work but have not yet begun to do so, state when and where you will take them, as well as your willingness to enroll in any additional courses the school recommends or to follow any other instructions it provides.

Emphasize your fit with the school.

If you are 100% sure that upon acceptance, you would attend, state this directly. The message you want to get across is this: You were born to attend this school, and the program was created just for you. Your fit is as perfect as that of a cozy glove on a cold hand.

Prove your "fit" by explaining what else you have done to expand your knowledge of the program and how you have worked to build your network there. You might have mentioned in your application or in an interview how the school's philosophy and approach match your educational preferences and goals. In a waitlist letter, cite new examples that support your argument. For example, if you have visited the campus (post-submission), mention which class you sat in on, who taught it, and what your impressions were.

Similarly, make reference to recent email exchanges you've had with alumni or students. What else have you learned about the program through these connections that matches your interests? Making these connections demonstrates that you feel invested in attending and drives home the message that the school is the best place for someone with your post-MBA goals.
Remember, admissions directors want waitlisted applicants to show passion, but not obsession. Follow these steps with professionalism, maturity, and courtesy, and you can be sure that schools will respond to this extra personal effort.
Watch: One med school admissions dean talks about how her team views letters of intent. >>

Writing Effective Waitlist Letters: A Quiz
1. Waitlist letters can be three or more single-spaced pages long…
(a) if you have a lot of accomplishments to talk about.
(b) never. They should not ever exceed two pages.
(c) only if they are law school waitlist letters.
(d) if you are not including an additional letter of recommendation.
2. Expressing frustration or disappointment in the waitlist letter about not being immediately accepted is…
(a) okay if the school is really your number-one choice.
(b) appropriate if it reflects how you honestly feel.
(c) never a good idea.
(d) useful in the letter's conclusion to elicit sympathy.
3. During the waitlist process, you should generally aim to contact the waitlisting school…
(a) every other day if it's really your number-one choice.
(b) weekly by email or mail.
(c) only when prompted by the school.
(d) every three to four weeks (if the school allows contact).
4. The main topics of a waitlist letter should be…
(a) your recent professional achievements.
(b) additional reasons why the school is a good fit for you.
(c) developments in your work life since applying.
(d) any substantial recent examples proving you have worked to strengthen areas of weakness in your application.
(e) all of the above.
5. It's acceptable to repeat wording from your application essays in the waitlist letter…
(a) never.
(b) if you are in a rush to get the letter done on time.
(c) if it was an especially strong part of your application.
(d) if you think it's important enough to reinforce.
[Answers: 1b, 2c, 3d, 4e, 5a]
So, how'd you do? We hope this post has helped you gain a solid understanding of how waitlist letters work. But would you still like the assurance of working with an expert who can guide you in drafting a waitlist letter that will turn the school's "maybe" into a resounding "yes"? Our admissions experts have helped many hundreds of waitlisted applicants earn acceptance to the programs of their dreams, and we can help you, too. From developing a waitlist strategy to identifying areas you can highlight to your advantage to helping you edit your letter so that it makes the strongest case for your admission, we will provide personalized, supportive guidance at this critical juncture. Check out our waitlist services and let's get started!
Related Resources: