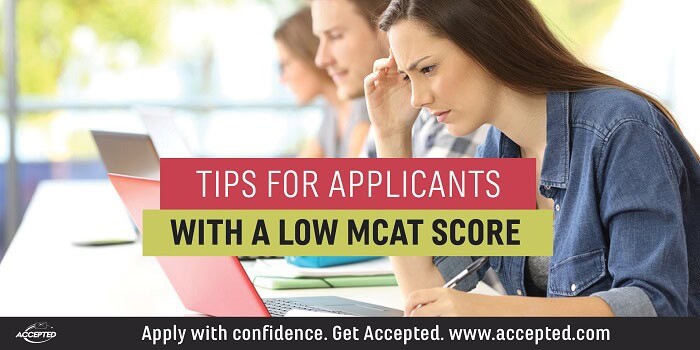 Medical school applicants (or any other professional school applicant) must assess their credentials realistically to present themselves in the best possible way during the application process. Since applicants are evaluated based on specific quantitative criteria (primarily undergraduate GPA and MCAT scores) and non-quantitative criteria (research and clinical exposure, leadership skills, mentoring experiences), as well as on personal attributes such as compassion, discipline, motivation, and work ethic, you must acknowledge your strengths and weaknesses.
Most medical schools do weigh quantitative credentials heavily, in particular the MCAT score, because strong MCAT scores have been correlated with success on the USMLE. The MSAR reports each program's median MCAT score from the previous application year, as well as their lowest and highest accepted scores.
Should you retake the MCAT?
If you already took the MCAT and scored lower than you had hoped for, your chances of admission may drop. Should you apply with the score you have or should you retake the test?
Case A: You DO NOT retake the exam

If your MCAT score is borderline, and you choose not to retake the exam, you will need to present yourself in the best light by stressing your other attributes and credentials and by taking extra coursework that illustrates your strong academic background. Some schools approach applications "holistically," meaning that they weigh all aspects of your application and realize that standardized tests are not always the best representation of a students' aptitude. But many medical schools screen applicants, at least initially, on their MCAT scores.

Read: How Your Academic Statistics Influence Your Medical School Choices >>

If your scores are simply too low to be competitive at American allopathic med schools, you might pursue osteopathic medicine, which evaluates applications more holistically and considers lower MCAT scores than allopathic schools. You might also investigate foreign medical schools, including Caribbean programs. Some do not require the MCAT, although graduating from a program outside North America can make your return to a U.S. residency more difficult. You can also consider alternative career paths, such as biomedical research or patent law, two common alternative career options that allow you to remain in science.

Note: Do not take the test unless you are scoring (on practice tests) above the range that you feel you need for admission. The confidence you possess on test day knowing you were scoring a 512 on practice tests is a large part of the mind-game you must master to succeed. Hard work, discipline, and true motivation are the necessary ingredients to MCAT success.

Case B: You DO retake the exam

If you are committed to obtaining an MD, then you should plan to retake the exam. You may take it up to three times in a year and seven times in your lifetime. Ideally you want to ace it the second time, but it's not uncommon for applicants to take it multiple times. This can demonstrate your persistence and determination to get into medical school. However, it is important to show an upward trend. Schools may average the scores, but they tend to give the latest score the most weight, and dropping even a few points can hurt you.
Timing is everything
If you do decide to retake the MCAT, give yourself plenty of time. Too often, applicants sign up for a June or even July test date in the year they want to apply. If they don't score as high as they hoped, they can't retake until August or later, requiring they either submit late or push the whole process back another year. Be smart and schedule the test as early as you feel you're ready.
Keep in mind that many students do not prepare enough for the MCAT, thinking that their coursework is sufficient preparation. This is a faulty assumption, especially for applicants who struggle on standardized tests. Applicants need to study hundreds of hours over several months to review and prepare for the test. Applicants should utilize preparatory courses, private tutors, and varying prep approaches to succeed. Applicants need to have real discipline to do the necessary work – 40 hours a week for several months. It is also extremely important to take practice tests regularly (ideally weekly) in order to master not just the content but also the necessary test-taking skills to succeed under the additional test-day stress.
What are the lowest scores accepted into med school?
The following data comes from the most recent U.S. News medical school rankings.
| | |
| --- | --- |
| Medical School | Median MCAT Score |
| Lincoln Memorial University (DeBusk) | 500 |
| West Virginia School of Osteopathic Medicine | 501 |
| Oklahoma State University | 501 |
| Edward Via College of Osteopathic Medicine | 502 |
| University of Pikeville | 503 |
| Ohio University | 504 |
| Marshall University (Edwards) | 504 |
| Marian U. College of Osteopathic Medicine | 504 |
| Lake Erie College of Osteopathic Medicine | 504 |
| Howard University | 504 |
| William Carey U. College of Osteopathic Medicine | 505 |
| University of New Mexico | 505 |
| University of New England | 505 |
| Nova SE U. Patel College of Osteopathic Medicine | 505 |
| Wright State University (Boonshoft) | 506 |
| Rowan University School of Osteopathic Medicine | 506 |
| Florida State University | 506 |
| East Tennessee State U. (Quillen) | 506 |
| East Carolina University (Brody) | 506 |
| University of Nevada–Reno | 507 |
| University of Louisville | 507 |
| Michigan State U. College of Osteopathic Medicine | 507 |
| University of South Carolina | 508 |
| University of North Texas Health Science Center | 508 |
| University of Arizona–Tucson | 508 |
| Texas Christian University | 508 |
| Northeast Ohio Medical University | 508 |
*Please note that some schools on this list accept mostly or exclusively in-state residents and applicants with strong ties to the state. To learn more, check out our in-state vs. out-of-state acceptance rate data.
Not sure whether or not you should retake the MCAT? Do you need help evaluating your profile to determine your competitiveness at your target med schools? An experienced medical school admissions consultant can help you figure out which programs to apply to and how to craft an admissions strategy that will get you accepted. Check out our Medical School Admissions Consulting Services here to get started!
Related Resources:
• Applying to Medical School with Low Stats: What You Need to Know, a free guide
• Discover the Medical Schools Where You Are Competitive
• Improve Your MCAT Score for Medical School Acceptance