Time marches on – you get busy at work and all of a sudden it's 2019. If you either missed the early application rounds or didn't get accepted at your target programs, you may be considering submitting applications during Round 3. But that comes with its own set of questions:
Is it worth applying this late in the cycle?
Would you be better off waiting until next year?
What are the factors you should consider when making this decision – a decision which, after all, could affect the rest of your career?
Drawing on over 20 years of admissions expertise, Accepted's founder Linda Abraham offers a no-nonsense approach for you, Round 3 vs. Next Year: When Should You Apply? In this free webinar, you'll learn what distinguishes Round 3 from earlier rounds, as well as how to assess your profile to decide when you should apply.
The webinar is free, but you must reserve your space.
Register Now: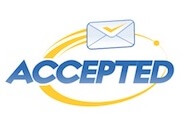 For 25 years, Accepted has helped business school applicants gain acceptance to top programs. Our outstanding team of MBA admissions consultants features former business school admissions directors and professional writers who have guided our clients to admission at top MBA, EMBA, and other graduate business programs worldwide including Harvard, Stanford, Wharton, Booth, INSEAD, London Business School, and many more. Want an MBA admissions expert to help you get Accepted? Click here to get in touch!