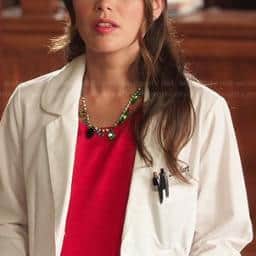 This interview is the latest in an Accepted blog series featuring interviews with medical school applicants and students, offering readers a behind-the-scenes look at top medical schools and the med school application process. And now, introducing Sassy…
Accepted: We'd like to get to know you! Where are you from?
Sassy: I'm from the US and I am originally from the Midwest although I attend school away from home.
Accepted: Can you share 3 fun facts about yourself?
Sassy:
1. My theme song during MS4 is I've Been Everywhere (I know all the words!)
2. I can't burp
3. I have a lot of trophies with goats and chickens on them from showing livestock instead of normal childhood trophies from softball and soccer and stuff, in case you were wondering how popular I was in high school.
Accepted: You have a great personality on your twitter feed. How did you come to start your Twitter account?
Sassy: I started my account in July 2015, almost one year ago! I originally started my account as a catharsis—a place where I could go and rant or post the things that crossed my mind during my day. I also wasn't seeing a lot of med student accounts that talked about how average they were or that showed their life outside of studying all the time or board prep.
Accepted: What motivated you to pursue a career in medicine? 
Sassy: I went into medicine because I was fascinated with human physiology. I almost went for my PhD because I loved research, but didn't want to become the world's foremost expert in upregulation of a specific gene in one single variant of a some species, I wanted knowledge in something that I could discuss with others and share ideas and collaborate.
Accepted: As an MS4, has medical school met or surpassed your expectations of it?
Sassy: I have loved medical school. If I could go back, I would 100% do it again, which is something that not all my classmates would agree with me on. It has met my expectations academically, and has exceeded my expectations socially (which I think is more a function of how I choose to spend my time).
Accepted: Why did you choose the current school you are in? How did you know it would be a good fit?
Sassy: I chose my school because it was the only one I got into.
Accepted: What has been the biggest unexpected challenge you have faced since starting med school?
Sassy: The biggest unexpected challenge for me was deciding what I was going to go into, especially because I started medical school being that classic medical student who swore they knew what they wanted to go into. I think we ALL swear that we're not that student, only to find that we have no idea what that part of medicine was like. I really struggled emotionally and rationally to find what would be a good balance between my professional and personal goals. The scariest part is that I won't know if I made the right decision until 30-40 years from now when I look back on my life and career. I started my Twitter account right after I realized that I didn't want to go into neurology, and the people that I met on #SoMe and #FOAMed have been and continue to be instrumental in helping me talk through what is best for me. I did have to be conscientious not to let #SoMe sway me too much–it's very tempting to want to be included in one certain group or another.
Accepted: Post med school what are your plans? Do you know what kind of medicine you want to go into?
Sassy: There were so many hashtags (#TheDecision, #PickSurgery) and one parody Twitter account (that I didn't make) that came out of me trying to decide what my future plans were. As of right now, I'm going into Emergency Medicine if they'll have me!
Accepted: Can you share some tips on the life-school balance? How do you make sure that med school doesn't totally take over your life, but still ensure that you're getting all your work done and making the most of your experience?
Sassy: My education will never trump my personal life, so fortunately I have never been at risk of it taking over my life. That being said, you still have to make a lot of sacrifices (canceled plans, losing touch with friends, etc.) because some days school just has to take precedence, but I think that it's very important to make up for that in some small way. Most days, for me, it's just a short text to a friend to check in. If I can't meet them for dinner this week, I want them to know that I'm at least thinking about them during my crazy day. Also, I'm a huge time management freak and every morning I plan out my entire next day and a half (which I usually fail at sticking to). I also like to squeeze all of my smaller to-do list items (like phone calls, sending paperwork) into my downtime at the hospital so that I can focus on the bigger things (studying, running) for after work. It's also been super helpful to mix-and-match a lot of my activities, like studying with friends, studying while running, or running with friends/family.
You can follow Sassy's experiences by following her on Twitter (@mcsassymd). Thank you Sassy for sharing your story with us!
For one-on-one guidance on your med school applications, please see our catalog of med school admissions services.
Do you want to be featured in Accepted's blog? If you want to share your med school journey with the world (or at least with our readers), email us at bloggers@accepted.com.

Related Resources:
• Put the Med School Application Puzzle Together: Advice from Cyd Foote [Episode 160]
• The Top 3 Factors Applicants Overlook in Their Applications
• 10 Tips to Get You Through the Application Season