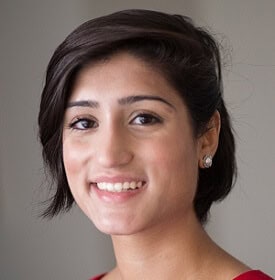 This interview is the latest in an Accepted blog series featuring interviews with medical school applicants and students, offering readers a behind-the-scenes look at top medical schools and the med school application process. And now, introducing Tehreem Rehman…
Accepted: We'd like to get to know you! Where are you from? Where and what did you study as an undergrad?
Tehreem: I'm from Queens, NY and I studied Women's & Gender Studies as a John Jay Scholar at Columbia.
Accepted: Can you share three fun facts about yourself?
Tehreem:
1. I love to make jewelry or buy old pieces from flea markets and reconfigure them into unique, flattering pieces. 
2. My fiancé and I may be in the running for the longest engagement. We've been engaged for over two years now and I don't anticipate having any time to plan a wedding until my final year of medical school. I'm also taking two extra years in between for an MPH and research.
3. Once I find a good pair of leather boots with relatively comfy heels, I will wear them like 3-4 times a week and wear them out in only a couple of months. I prefer walking everywhere and so I go through shoes fast.
Accepted: Where are you currently in med school? What year? 
Tehreem: Yale School of Medicine. I'm currently taking a year off to do my MPH and will commence clinical rotations this June. 
Accepted: Why did you choose this program? Can you explain how it works with the 2 degrees? What's the timeline like? 
Tehreem: At most medical schools, including Yale, students take a year off in between their 3rd and 4th year to do a dual degree like a MPH or MBA. I did it a year earlier due to an unexpected but incredible funding opportunity. I chose to do an MPH with a focus on epidemiology as a means of bolstering my quantitative skills for research. I also used this time as an opportunity to really explore my interests in health policy through different internships.
Accepted: What's your favorite class so far? Clerkship?
Tehreem: I've only completed my preclinical clerkship so far and had really enjoyed my physiology courses. These were the times when I was able to engage in more systems thinking and later on was able to start thinking critically about diagnostics
Accepted: Looking back at the application process, what would you say was your greatest challenge? How would you advise other applicants who may be experiencing similar challenges?
Tehreem: I went straight into medical school and I had to drop my thesis as I was missing a lot of class for interviews. I always recommend that people take at least a year off and explore other interests while also taking a much needed break before diving into medical school.
As a low-income student, the costs of just applying to medical school can be quite daunting. While I largely used test prep books from the library for the MCAT, I'm now aware that some schools offer free MCAT courses for low-income students. You can also contact schools directly when applying to see if they will waive the application fee and reimburse travel. I believe there is also a program through AMCAS in which you can get a reduction in your MCAT fee and get the first couple of schools on the application free. I applied several years ago so can't recall the exact name.
Finally, patience is key. Wait for your scholarship and financial aid packages to come in and use good ones as leverage when talking to other schools you're interested in.
Accepted: Can you tell us about some of your interests and achievements in the world of public health and health justice? 
Tehreem: Soon after starting medical school, I experienced a dearth of instruction on socioeconomic determinants of health and health inequity. As a provider-in-training, I recognize that while I will have a very intimate relationship of healing with patients, the vast majority of the patients' health outcomes will be determined by extra-clinical factors. Furthermore, medicine has an intrinsic social responsibility. Consequently, in order to effectively and ethically serve our patients, it's crucial that we get adequate training on health justice issues and advocacy.
A classmate and I thus started the US Health Justice course that was launched as a pilot during our second year. It has now beautifully expanded and will be transitioning into its third year this fall. Many parts of the pilot course have been incorporated into the main curriculum for medical students and a larger US Health Justice Collaborative has been established to expand space and opportunities for engaging in health justice work across the different health professions and other schools at Yale.
This past fall, I also co-created Systemic Disease, an online platform seeking to raise awareness about bias in medicine and facilitate student advocacy efforts. As humans, we all hold implicit biases that can cause us to make automatic judgments without the intention to harm. Since such bias has been shown to adversely impact the patients we seek to serve, it is vital to begin identifying these biases within ourselves and others. Only then can we prevent such biases from interfering with our clinical decisions and behaviors with colleagues, students, and others. Our project gathers stories from people who interface with the medical field at all levels in order to give voice to the biases that permeate the medical establishment. We intend to use our stories to advocate for change such as improved counseling and support services for trainees experiencing bias, more robust or more transparent bias-reporting systems, and curricular reform to expand instruction on bias in medicine and health inequity.
Accepted: Can you tell us about your blog? Who is your target audience? What have you gained from the blog experience?
Tehreem: I actually began blogging during my senior year of college as part of a course called Gender and Sexuality in U.S. Social Movements. Initially, it was meant to serve as a space to share commentary about different scholarship and current affairs pertaining to that topic. Since then, I've expanded to discuss issues not only pertaining to feminism, but also health inequity, racism, and Islamophobia. My blog now serves as a space for me to share my commentary on these issues and to share my experiences with medical training. I can also be reached on twitter.
You can follow Tehreem's med school/MPH adventure by checking out her blog or via Twitter (@tehreem_rehman). Thank you Tehreem for sharing your story with us!
For one-on-one guidance on your med school applications, please see our catalog of med school admissions services.
Do you want to be featured in Accepted's blog? If you want to share your med school journey with the world (or at least with our readers), email us at bloggers@accepted.com.

Related Resources:
• The AAMC Fee Assistance Program: How & Who Should Apply
• How To Pay For Medical School
• Meet An Underrepresented, Highly Motivated MD/MPH Student