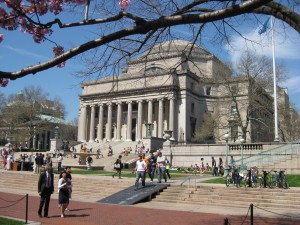 These essay questions focus mostly on the present and future. There's a little room to discuss relevant past experiences, but not much, so don't expect to richly portray your personal and/or professional development. Moreover, if the Columbia EMBA adcom wanted this information, they would ask for it. Rather, go with the flow, and give them what they do ask for, in aggregate: a vivid sense of engagement
•  with your career
• with the resources of Manhattan
• with the program itself.
Short Answer Question:
What is your immediate post-MBA professional goal? (100 characters maximum)
Give the basic facts – position, company, or a specific industry, and a word about responsibilities and desired impacts. Don't repeat the question (it wastes space). 
1: Given your individual background, why are you pursuing a Columbia MBA at this time?  (Maximum 500 words)
The initial phrase invites you to present your goals and your MBA plans in the context of your past experience.  Yet, with only 500 words overall, you can't give a comprehensive, detailed delineation of your life or career to date.  I suggest a simple basic structure, which you can adapt:
1. Start with the key point or two from your past that really animates your goals. Make it straightforward and vivid; ideally including an anecdote.
2. Your career vision fleshed out – some practical discussion of how you'll achieve it and what "success" will look like in terms of desired impact.
3. Why these factors make now the right time to pursue the EMBA. Also include the main reasons Columbia is the right program for you.    
2: Columbia Business School is located in the heart of the world's business capital- Manhattan. How do you anticipate that New York City will impact your experience at Columbia? (Maximum 250 words)
Please view the videos below:
New York City – limitless possibilities
New York City – fast paced and adaptable
Your experience at Columbia will have numerous dimensions: academic, professional, social, cultural.  Try to address each of these dimensions in the proportion relevant to you.  Do not just do a travelogue of Manhattan (I've already seen this in a draft or two). Rather discuss how the resources of Manhattan relevant to you will inform your time at Columbia – say you have a passion for jazz.  Of course you can hear great jazz all over town, but will you also look to share this passion with classmates?  Start an informal jazz appreciation group?  Audit music courses at Columbia or nearby Manhattan School of Music?
3: What will the people in your cluster be pleasantly surprised to learn about you? (Maximum 250 words)
The key to answering this short essay effectively is to understand the phrase "pleasantly surprised."  Let's break it down:
• First, don't repeat a resume point – "surprised" means something not obvious from the available information.
• "Pleasantly" means something that will generate positive interest.  It doesn't have to be directly applicable or "useful" to your cluster mates.
It can be something from work or outside work.  If it's far in the past, it should be something of continuing relevance.  DON'T present a boring explanation.  DO root your response in actual experience.
Most important: DO select a topic that will add something to your profile, something that lets the adcom know you better as a person.
If your answer puts a smile on the reader's face, or even better elicits a happy, surprised laugh, high five!
Optional Essay
An optional fourth essay will allow you to discuss any issues that do not fall within the purview of the required essays.
This question invites you to present new material that will enhance your application, as well as to explain anything that needs explaining (e.g., gap in employment, choice of recommender if not using a direct supervisor, etc.). As far as non-necessary points, since you are making the adcom read more than is required, there should be a clear value to the information you're sharing. Finally, keep it short.
Columbia EMBA 2015 Application Deadlines:
EMBA-Americas: January 2015 Entry
Regular Decision: October 29, 2014
EMBA-NY Saturday: May 2015 Entry
Early Decision: January 15, 2015
Regular Decision: March 2, 2015
EMBA-NY Friday/Saturday: August 2015 Entry
Early Decision: March 18, 2015
Regular Decision: June 3, 2015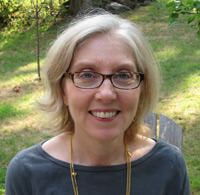 By Cindy Tokumitsu, co-author of The EMBA Edge, and author of the free special report, Ace the EMBA. Cindy has helped MBA applicants get accepted to top EMBA programs around the world. She is delighted to help you too! 
Last updated on