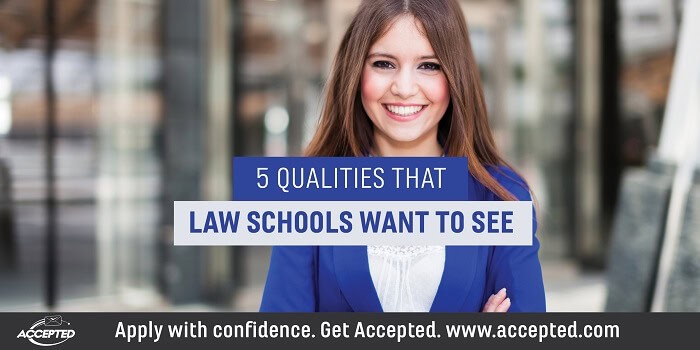 As you write your personal statement, keep in mind some of the qualities that impress law school admission committees. Be sure to emphasize these in your personal statement through specific actions and examples. Evidence!
Qualities of a good law student (and lawyer!)
Interest in law

Believe it or not, law schools want applicants who are interested in the law. Your personal statement should answer the questions – why law school and why now. An important part of law school and legal practice is scholarship – writing and interpreting the law. While it doesn't matter what your undergraduate major was, law school applicants should have an interest in law. You don't need an "aha" moment, or have a definite plan for after law school but your interest in a legal education and a legal career should be explicit.


Ethics

Law schools and the legal profession value integrity and honesty. Any type of service that emphasizes academic integrity or ethical standards is great to emphasize. It is important that everything you describe in your personal statement displays your strong sense of ethics – including your "work ethic." [Click here to read "5 Tips for Disclosing a Criminal Record to Law Schools."]


Intellectual curiosity

Law schools pride themselves on providing students a variety of learning opportunities. Therefore, schools value intellectual curiosity and academic ability. Law schools have at least one writing-intensive class as well as a class focused on trial advocacy. Clinics and externships – practical learning – provide out-of-classroom learning as well. You should be able to show in your personal statement moments when you went above and beyond to learn something new, where you took advantage of opportunities and thrived.
People skills

Lawyers work with people, clients and other lawyers. The legal profession is collaborative. While the stereotype of the lawyer is someone who is argumentative, in fact, law schools want people who can talk to many different types of people without confrontation. Avoid that old adage in your personal statement: "My parents said I should be a lawyer because I like to argue." This kind of perception shows law schools that you haven't spent enough time learning what the practice of law is all about.


Tenacity

Try, try again. That's a lawyer's motto. Sometimes your side wins, and sometimes it loses. Sometimes you may not even agree with your side. But in all cases, a lawyer has to be willing to pick up and try again and work hard for every client despite differences. In your personal statement, you should show moments when you have overcome obstacles.

While law schools aren't looking for cookie-cutter applicants, they do want students who show these qualities, which are essential for success in law school and in your legal career. Remember to show, don't tell, – provide evidence! – at least some of these in your personal statement, and you will set yourself up to be a winning applicant.
Do you need help demonstrating these 5 qualities in your law school personal statement? Explore our Law School Admissions Services and we'll pair you with an expert advisor who will ensure your application has what it takes to help you GET ACCEPTED.
Related Resources: