Good news for students scheduled to take the GMAT beginning April 16, 2018. The exam will now be 30 minutes shorter!
The Graduate Management Admissions Council (GMAC) has implemented this change to reduce the anxiety level of test-takers, and to streamline the exam experience. The exam content, types of questions, and average time per question will not change. It's the same GMAT exam – but instead of 4 hours, the exam will now take 3.5 hours, including time for breaks and instructions.
GMAC was able to cut the total exam time by reducing the number of unscored (research) questions in the Quantitative and Verbal Reasoning sections of the exam and by shortening instruction/tutorial screens. There are no changes to the GMAT's Analytical Writing Assessment (AWA) and Integrated Reasoning (IR) subdivisions.
GMAT scoring will not be affected by this change since the number of scored questions will remain the same. The Total Score and discrete Quant and Verbal section scores will be equivalent to exams taken before the change.
According to GMAC's senior director of product management, Vineet Chhabra, "We are always looking for ways to help build candidate confidence and streamline the test experience, all with one goal in mind—to help GMAT test-takers do their very best on exam day. We believe candidates will have less anxiety and feel better prepared, which can contribute to a better reflection of their true performance on the exam."
Here are the differences between the old and new exam structures:
Do you need help preparing for the GMAT, analyzing your scores, or working on any other aspect of your MBA application? Check out our MBA Admissions Consulting Services for more information on how we can help you put your best foot forward and get ACCEPTED.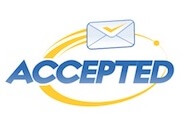 For 25 years, Accepted has helped business school applicants gain acceptance to top programs. Our outstanding team of MBA admissions consultants features former business school admissions directors and professional writers who have guided our clients to admission at top MBA, EMBA, and other graduate business programs worldwide including Harvard, Stanford, Wharton, Booth, INSEAD, London Business School, and many more. Want an MBA admissions expert to help you get Accepted? Click here to get in touch!
Related Resources:
• 5 Effective Stress Reducing Solutions for GMAT/GRE Success, a free webinar
• Affordable Online Test Prep, a podcast episode
• When is the Best Time to Take the GMAT?