We spend a lot of time discussing all the steps you should take and all the things you can do to boost your competitiveness and increase your chances of acceptance to medical school. But there are also a lot of things you should NOT do that will improve your odds of success.
Below are 5 mistakes to avoid when writing your med school personal statement. Steer clear of these errors and you'll be better positioned to earn a seat in next year's entering med school class!
1. Don't just rewrite a resume into an essay.
Medical schools don't want to see a list of every accomplishment or award. They want specific details and stories that give them an idea of who you are and what kind of physician you will be.
2. Don't use clichéd language.
The admissions committee reads so many personal statements that using clichés will mark you as someone who didn't put enough original thought into your personal statement. Say what you really mean, instead of relying on clichés, jargon, or empty expressions. Instead of describing a volunteer experience as "an opportunity to give back," talk about how you really felt while dishing soup out at the battered women's shelter or why you thought it was important to dedicate your time in the children's cancer ward at the hospital across town.
3. Don't talk too much about other people.
It can be tempting to talk about mentors or other doctors, but the personal statement needs to focus on you. You can mention others as a way of describing how they have influenced/motivated/challenged you, but be sure that the focus remains on you and your actions and experiences, and not on them.
4. Don't make excuses.
If you have low grades, don't over-explain or make too many excuses for your performance. Just admit your mistake and point to other evidence that you know how to perform academically. The same goes for other negatives that may be lurking in your profile – low test scores, gaps in your resume, not enough volunteer or extracurricular involvement, or even a criminal record.
5. Don't be sloppy.
Grammar and spelling errors show the adcom that you don't take the admissions process seriously. Don't give the admissions committee a reason to put your essay in the "no" pile because you didn't take the time to proofread.
If you avoid these common mistakes, you will be able to write a med school personal statement that shines.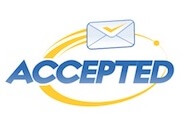 For 25 years, Accepted has helped applicants gain acceptance to their dream healthcare programs. Our outstanding team of admissions consultants features former admissions directors, admissions committee members, pre-health advisors, postbac program directors, and doctors. Our staff has guided applicants to acceptance at allopathic (MD) and osteopathic (DO) medical schools, residencies and fellowships, dental school, veterinarian school, and physician assistant programs at top schools such as Harvard, Stanford, Penn, UCSF, Johns Hopkins, Columbia, and many more. Want an admissions expert to help you get Accepted? Click here to get in touch!
Related Resources:
• 5 Fatal Flaws to Avoid in Your Med School Application Essays
• 3 Reasons You Need to Start Working on Your Med School Applications NOW
• Review Your Essays Like an Admissions Consultant: Use the Editing Funnel
Last updated on