It's natural to be anxious about the GRE or GMAT – after all, your future educational options could depend on how well you perform. But the bind is this: if test-taking anxiety paralyzes you, you probably won't perform as well as you could.
Reducing test anxiety can enable you to take the exam confidently and perform to the very best of your ability. If that sounds easier said than done, don't worry! We've partnered with our friend Bara Sapir, a life coach and test prep expert, to bring you a special webinar devoted to this precise topic. In Five Effective Stress-Reducing Solutions for GMAT/GRE Success, you'll learn tried and true solutions for test taking anxiety, and ways to think through which tools may be right for you.
Don't let panic or anxiety prevent you from realizing your grad school dreams. Register for Five Effective Stress-Reducing Solutions for GMAT/GRE Success and learn to master the test.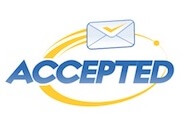 For 25 years, Accepted has helped business school applicants gain acceptance to top programs. Our outstanding team of MBA admissions consultants features former business school admissions directors and professional writers who have guided our clients to admission at top MBA, EMBA, and other graduate business programs worldwide including Harvard, Stanford, Wharton, Booth, INSEAD, London Business School, and many more. 
Want an MBA admissions expert to help you get Accepted? Click here to get in touch!