I have some surprising news: the most common ACT mistakes do not involve getting wrong answers on the test. In fact, the major ACT blunders happen before you get anywhere near the test center. Fortunately, the three big ACT mistakes are easy to avoid… once you know what they are.
Big Mistake # 1: Setting the Wrong Test Date

How can a test date be "wrong," you ask? There are a few ways to choose a bad test date. Sometimes people choose an ACT date that doesn't give them enough time to study. Remember, it's best to give yourself at least a month of prep time before you take the exam.
Also, make sure you still have time to receive your scores before school application deadlines. It takes about three weeks to get your scores for the main exam, and about five weeks to get essay scores. Time your ACT accordingly.
Above all, leave room on your calendar for an ACT retake. Even if you think you can pass the test on the first try, you never know. You might not study as much as you'd hoped to. Or you could simply have a bad test day, where you're tired or unfocused on the exam. And even if you truly excel on your first attempt at the ACT, you might decide you want to try for an even better score, so you can apply to even better schools. You certainly want to have that option!
Big Mistake # 2: Not Knowing Your Target Score

Your target score is the score you need in order to have a chance at your chosen schools. What you must remember is that target scores vary. Don't just assume that a certain score will work at every school you're applying to. Some schools ask for much higher scores than others. To make sure you're aiming for the right target, check out the Magoosh ACT Article "What is a Good ACT Score?"
Moreover, certain universities have an exact minimum score, while others have a recommended range. Again, Magoosh can help you figure out if you should aim for a range rather than a specific score. Be sure to go through their ACT score range guide.
Big Mistake # 3: Getting "Burnt Out" by Test Day

A lot is riding on your ACT score. Your college career, your future success… the next four years of your life, and beyond. So you want to work hard at ACT prep. And you may feel stressed as test day approaches. This is understandable. But you can't let that stress get the better of you.
If you study too hard and too long, you lose some of the benefits of ACT prep. When you're exhausted and anxious, you retain less of the knowledge that you're trying to learn. The worst thing you can do is stay up late cramming for the ACT right before test day. During the exam, being well-rested and ready to go is much more important than filling your mind with tons of facts.
So take care of yourself while you take care of the ACT score. And on the day before the exam (and morning of), relax. You've earned it!
David Recine is a test prep expert at Magoosh. He has a Bachelor of Social Work from the University of Wisconsin-Eau Claire and a Masters in Teaching English to Speakers of other Languages from the University of Wisconsin-River Falls. He has been teaching K-12, University, and adult education classes since 2007 and has worked with students from every continent. Currently, David lives in a small town in the American Upper Midwest. When he's not teaching or writing, David studies Korean, plays with his son, and takes road trips to Minneapolis to get a taste of city life.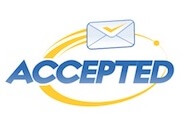 For 25 years, Accepted has helped applicants gain acceptance to top colleges and universities for 25 years. Our team of admissions consultants features former admissions committee members and highly experienced college admissions consultants who have guided our clients to admission at top programs including Princeton, Harvard, Stanford, Columbia, MIT, University of Chicago, and Yale. Want an admissions expert to help you get Accepted? Click here to get in touch!
Related Resources:
• How to Choose a College Admissions Consultant
• Time Management Tips to Make the Most of Your Test Prep
• 9 Easy Ways to Improve Your ACT Score