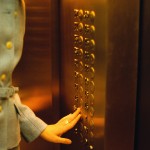 Last season I was often asked, "How should I act during my MBA visits?"  It's wise to consider, because adcom members start to assess your social intelligence even at this early stage.
Having an effective "elevator pitch" will enable you to attend such visits without anxiety, show you to be socially adept, and free you to focus on listening and responding rather than thinking about what to say in those initial moments.  Aim to present a thoughtful, meaningful nugget of information to make a positive first impression and facilitate conversation.  You can use your nugget with adcom members, MBA students, and fellow applicants.  With the latter two groups, you can also follow up with "What is your industry background?" or "What are your post-MBA goals?"
Your elevator pitch should be one to two sentences only.  Its content should usually focus on present and future.  The key is to convey core information in a way that is engaging.   Here are two examples:
Hi, I'm Mary Liu, a consultant in McKinsey's supply chain practice.  I hope to develop and lead the next-generation of supply chain innovations in emerging markets.
Hello, Manish Das here.  I've been troubleshooting Bank Paribas' risk management applications in Eastern Europe during the global financial crisis.  Post-MBA I want to focus on developing new risk management strategies to avert such crises.
If there is something important in your past to add for a clearer picture, mention it.  E.g., a listener would probably assume Manish Das grew up in India.  What if Manish grew up in Kenya, an interesting tidbit: "Hello, Manish Das.  I grew up in Kenya.  I've been troubleshooting…"
Finally: practice!  Your pitch should be natural for you to say, and practicing will help you adjust it to make it so.
Enjoy your school visits!
By Cindy Tokumitsu, author of numerous ebooks, articles, and special reports. Cindy has advised hundreds of successful applicants in her last thirteen years with Accepted. She can help you assess your strengths and weaknesses and develop a winning MBA admissions strategy.
Last updated on