We've all heard that old saying, "Timing is everything." And it happens to be true of a lot of things – comedy, sports… and, of course, med school applications.
You've put in so much work already – excelling in your premed courses, studying for the MCAT, doing research, volunteering, getting some clinical experience… Now all that remains is the application itself. We know the tight competition can be daunting – but believe us: now is not the time to get overwhelmed and obsess over minutiae to the point that you delay your application. Remember, timing is everything! Med schools have a limited number of interview invitations (and seats) available, so the earlier in the cycle you apply, the more seats they will have left. This doesn't mean, however, that you should ever sacrifice quality for time! Make sure your application is strong, effective, and error-free.
To help you get both the timing and the quality right, we're offering a big discount on all our non-rush med services! Between May 3 and May 10, save 10% off all non-rush medical services with the code MDSAVE.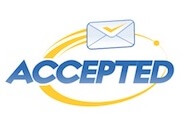 For 25 years, Accepted has helped applicants gain acceptance to their dream healthcare programs. Our outstanding team of admissions consultants features former admissions directors, admissions committee members, pre-health advisors, postbac program directors, and doctors. Our staff has guided applicants to acceptance at allopathic (MD) and osteopathic (DO) medical schools, residencies and fellowships, dental school, veterinarian school, and physician assistant programs at top schools such as Harvard, Stanford, Penn, UCSF, Johns Hopkins, Columbia, and many more. 
Want an admissions expert to help you get Accepted? Click here to get in touch!