This Accenture survey covers the expectations and experiences of US college graduates in 2011, 2012, and 2013.
Here are some of the key findings:
•  68% of class of 2011 and 2012 respondents are working full-time; 16% are employed part-time.
•  63% of college graduates say they'll need further training to land their desired job.
•  41% of those who have obtained jobs post-college say that they are underemployed and that they're working in jobs that don't require college degrees.
•  77% of 2013 college grads expect that their first employer will provide formal training on-the-job, but only 28% of 2011 and 2012 grads say that they received training in their first post-graduation positions.
•  32% of class of 2011 and 2012 graduates earn $25,000 or less per year, but only 15% of class of 2013 graduates expect to earn in that range.
•  17% of class of 2013 college grads and 13% of class of 2011 and 2012 grads have between $30,000 and $50,000 in student loan debt. 30% of 2013 graduates and 34% of 2011 and 2012 graduates have student loan debt of $30,000 or less.
•  44% of 2011 and 2012 grads live at home. Only 32% of pending 2013 grads plan on living at home post-graduation.
For more details see the Accenture 2013 College Graduate Employment Survey Results.
Hmmm…is there a disconnect between expectations and reality?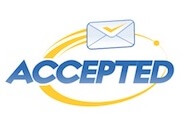 For 25 years, Accepted has helped applicants gain acceptance to top colleges and universities for 25 years. Our team of admissions consultants features former admissions committee members and highly experienced college admissions consultants who have guided our clients to admission at top programs including Princeton, Harvard, Stanford, Columbia, MIT, University of Chicago, and Yale. Want an admissions expert to help you get Accepted? Click here to get in touch!

Last updated on