According to new research by the Graduate Management Admission Council (GMAC), 75% of prospective graduate business school candidates who participated in the GMAC survey and who already have a master's degree are considering enrolling in MBA programs. This is true for students with both prior business master's degrees (61%) and non-business master's degrees (86%). These statistics are from the 2017 mba.com Prospective Students Survey Report, in which 11,617 students who registered on mba.com between February and December 2016 responded.
The survey findings also demonstrate that globally 22% of potential business school candidates already hold a prior master's degree. This varies by region: 40% of European candidates have a prior master's degree, while only 14% of U.S. candidates do.
Here are some additional findings from the survey:
• Globally the number of candidates considering non-MBA Master's programs, such as Master of Finance, Master of Accounting, and Master in Management, has increased from 15% in 2009 to 23% in 2016. This is especially true for candidates from East and Southeast Asia and Western Europe, where now more than 2 in 5 candidates report considering only these types of programs.
• Non-MBA and MBA programs attract different candidates looking for different outcomes. Non-MBA candidates tend to be younger, most have no previous full-time work experience, and are more interested in developing technical skills. MBA candidates are usually older, have full-time work experience, and are looking to develop their managerial and leadership skills.
• 59% of prospective business school candidates plan to apply to programs outside their country of residence, up from 49% in 2009.
• 63% expect to receive a higher-quality education.
• 58% hope to increase their chance of obtaining international employment.
• 51% plan to expand their international connections.
• 34% plan to look for work in the country where they prefer to attend school.
• 96% of U.S. candidates prefer to study domestically. Among full-time MBA candidates seeking study outside their country of residence, 58% prefer to study in the U.S., down from 61% in 2009. There has been an increase in MBA candidates' preference to study in Canada since 2009 (4% vs. 7% in 2016).
• Non-U.S. candidates from business master's programs are also shifting away from the U.S. Since 2009 there has been an increase in interest in applying to business master's programs in Western Europe (34% in 2016 vs. 30% in 2009); Canada (7% in 2016 vs. 4% in 2009); and East and Southeast Asia (7% in 2016 vs. 4% in 2009).
• The cost of education is the main reservation candidates have about pursuing a graduate business degree. 52% indicate that not having enough money for their education may keep them from getting a graduate degree. The same is true for those concerned about having to take on large debts (47%).
• The two most important financial features that candidates look at when evaluating programs are total tuition costs and available scholarships. On average, candidates now expect to cover a larger share of the cost of their education with grants, fellowships, and scholarships and a smaller share with parental support, loans, and employer-sponsorship compared to 2009.
Click here to download the full report.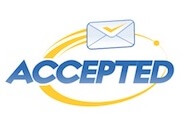 For 25 years, Accepted has helped business school applicants gain acceptance to top programs. Our outstanding team of MBA admissions consultants features former business school admissions directors and professional writers who have guided our clients to admission at top MBA, EMBA, and other graduate business programs worldwide including Harvard, Stanford, Wharton, Booth, INSEAD, London Business School, and many more. Want an MBA admissions expert to help you get Accepted? Click here to get in touch!
Related Resources:
• Why MBA, a free guide
• GMAC Releases Results of Year-End Employer Poll
• The CEMS MIM: A Truly International Masters in Management, a podcast episode